CNC teach-in lathes
SNC - PBR
The OMG Zanoletti heavy duty lathe CNC with self teach in of the SNC series, coming from PBR Perico Baroni Raimondi project, comes out from a successful compromise which joints the handiness of a standard lathe to the potentiality of a CNC lathe.

For this reason, it is the ideal machine for the customer who needs to combine the production demand, either of a single piece and of little and middles series, as well as the employment of workers not accustomed to use the CNC language of programming. This type of lathe can be used in 3 different ways:
• traditional, by using the wheels for axis Z and axis X
• teach in, starting from the drawing of the piece, following a driven program on video which uses prearranged cycles (roughing, finishing and taper turning, threading etc.) you make the working programme.
• CNC, using ISO programming like a proper CNC lathe.
DOWNLOAD CATALOG
FEATURES
Ergonomic machine interior
Fixed steady rest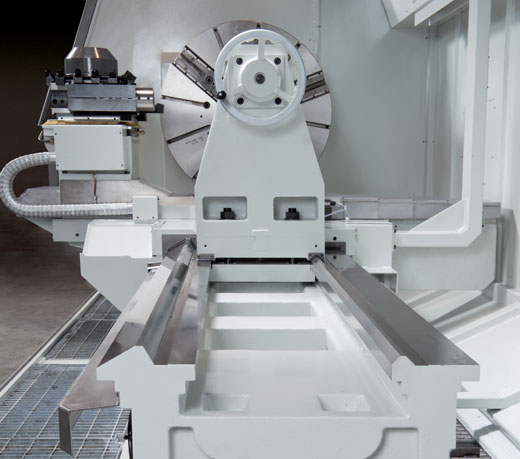 Monolothic bench
Third guide to support the saddle
Main features
MONOLITHIC BENCH
THIRD FRONT SUPPORT GUIDE FOR THE SLIDE
SPINDLE LINE WITH LARGE HEAVY DUTY BEARINGS
FLOOR LEVEL CHIP EVACUATION (UP TO SNC 800)
EXTERNAL RANGE CHANGE
CEMENTED, HARDENED AND GROUND GEARS ALSO ON THE SIDES TO ENSURE A PERFECT BALANCE
LARGE SPINDLE TORQUE
REQUEST QUOTE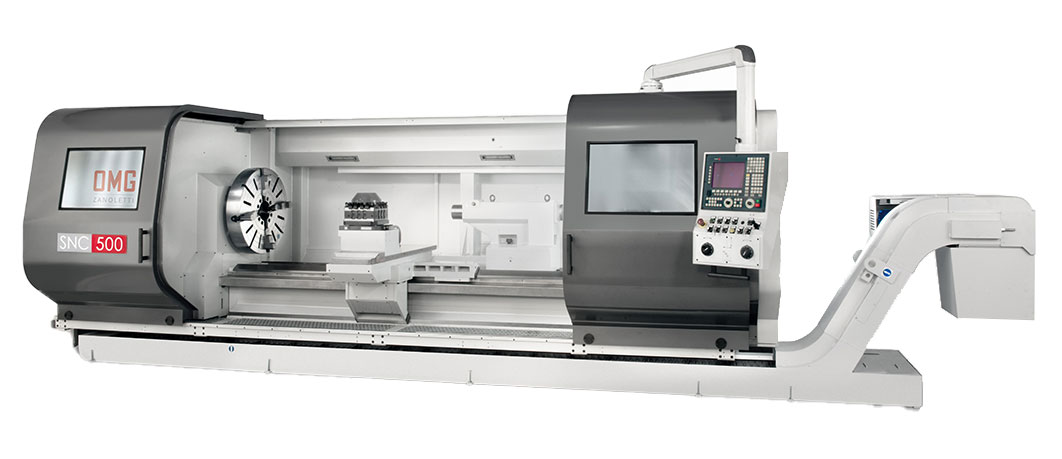 BASE
The MONOLITHIC bench, in Italian cast iron, has induction hardened and ground guides for the running on of the slide and the live center / steady rest. The bench is equipped with a THIRD FRONT GUIDE for an increased support of the slide during the turning steps of larger diameters.
HEADSTOCK
Body made of cast iron, with superior rigidity and vibration damping characteristics. Spindle made of special steel, heat treated, ground and mounted on precision roller bearings. Spindle AC motor brushless and air-cooled. Speed change, with two ranges selectable in cycle.
SLIDES
The longitudinal (Z axis) and transversal (X axis) slides are made of cast iron, with induction hardened and ground guides. The counter-guides are coated with anti-friction material. The slides are powered by AC servo motors brushless coupled with ball lead screws, ground and with preloaded nut. (D.P.>6000mm. ½ double pinion and rack movement with master & slave motor system).
LIVE CENTER
Cast iron body. Quill feed, translation and locking, in position, manual.

Technical data
Select the model
SNC 450
Center height
mm
450
Swing over bed
mm
920
Swing over saddle
mm
550
Distance between centers
mm
1,5 - 10
Headstock
Spindle motor power S1/S6 (Opt.)
kW
28/34,5 (39/48)
Spindle nose (Opt.)
ASA
11"
Spindle speed
rpm
0 - 78 - 1400
SNC 500
Center height
mm
500
Swing over bed
mm
1020
Swing over saddle
mm
650
Distance between centers
mm
1,5 - 10
Headstock
Spindle motor power S1/S6 (Opt.)
kW
28/34,5 (39/48)
Spindle nose (Opt.)
ASA
11"
Spindle speed
rpm
0 - 78 - 1400
SNC 550
Center height
mm
550
Swing over bed
mm
1120
Swing over saddle
mm
750
Distance between centers
mm
1,5 - 10
Headstock
Spindle motor power S1/S6 (Opt.)
kW
28/34,5 (39/48)
Spindle nose (Opt.)
ASA
11"
Spindle speed
rpm
0 - 78 - 1400
SNC 600
Center height
mm
600
Swing over bed
mm
1220
Swing over saddle
mm
840
Distance between centers
mm
1,5 - 20
Headstock
Spindle motor power S1/S6 (Opt.)
kW
39/48 (51/65)
Spindle nose (Opt.)
ASA
15" (11")
Spindle speed
rpm
0 - 34 - 800
SNC 650
Center height
mm
650
Swing over bed
mm
1320
Swing over saddle
mm
940
Distance between centers
mm
1,5 - 210
Headstock
Spindle motor power S1/S6 (Opt.)
kW
39/48 (51/65)
Spindle nose (Opt.)
ASA
15" (11")
Spindle speed
rpm
0 - 34 - 800
SNC 700
Center height
mm
700
Swing over bed
mm
1420
Swing over saddle
mm
1040
Distance between centers
mm
1,5 - 20
Headstock
Spindle motor power S1/S6 (Opt.)
kW
39/48 (51/65)
Spindle nose (Opt.)
ASA
15" (11")
Spindle speed
rpm
0 - 34 - 800
SNC 700-H
Center height
mm
700
Swing over bed
mm
1420
Swing over saddle
mm
1050
Distance between centers
mm
1,5 - 20
Headstock
Spindle motor power S1/S6 (Opt.)
kW
51/65
Spindle nose (Opt.)
ASA
15"
Spindle speed
rpm
0 - 27 - 470
SNC 800
Center height
mm
800
Swing over bed
mm
1620
Swing over saddle
mm
1250
Distance between centers
mm
1,5 - 20
Headstock
Spindle motor power S1/S6 (Opt.)
kW
51/65
Spindle nose (Opt.)
ASA
15"
Spindle speed
rpm
0 - 27 - 470
Lathes lines OMG