Manual lathes
TP
The TP center lathes have been conceived to resolve economic and technical important problems. So, on design, we have taken into account not only stiffness, productive power, handiness, higher accuracy, but also centralised controls and instantaneous speeds variation.
Instantaneous spindle speeds variation means to earn about two hours a day and less fatigue for workers. All gears (headstock, Norton box, saddle, and apron) are in Cr. Ni. Mo. steel, thermical treated and ground.
DOWNLOAD CATALOG
FEATURES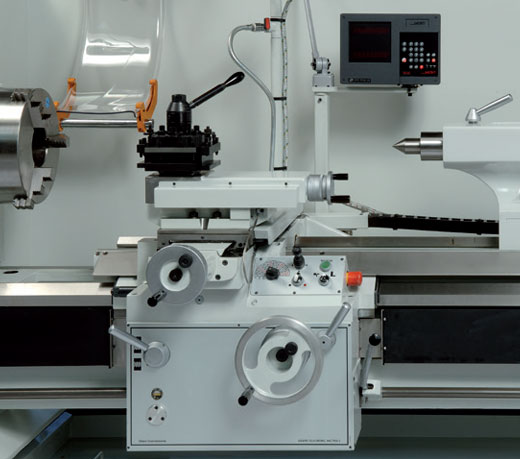 Saddle well dimensioned and of high precision. The plugboard with the selector for instantaneous change of spindle speed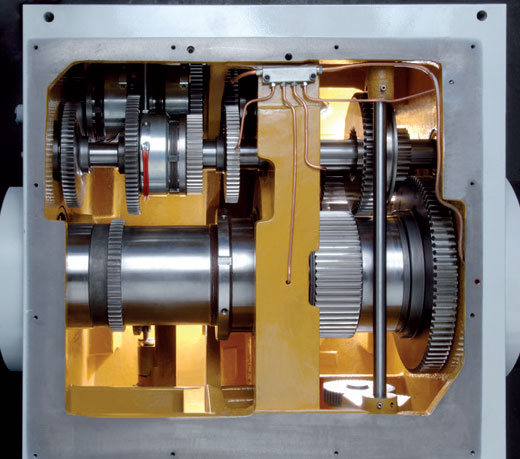 Inside of the headstock with gears made in alloyed, hardened and ground steel
Steady and follow rest
Main features
INSTANT SPEED CHANGE OF SPINDLE ROTATION PROVIDED BY POTENTIOMETER AND ELECTROMAGNETIC CLUTCHES
NATURAL INLET UNDER THE HEAD FOR THE TURNING OF LARGE DIAMETER FLANGES
GUIDES PROTECTED FROM FALLING CHIPS
CEMENTED, HARDENED AND GROUND GEARS ALSO ON THE SIDES TO ENSURE A PERFECT BALANCE
REQUEST QUOTE
BED
The bed is of cast iron shaped as a double wall over turned U, with a very large load bearing area. The sliding guides, induction hardened (about 500 Brinnell) and ground on a very high precision machine, are protected. On the headstock side there is a gap 100 mm deep.
HEADSTOCK
The headstock is drawn from a single well-ribbed shape of a special type of cast iron with a very high mechanical strength. It contains all the gears for the variation of speeds and a dual friction lamellar clutch for the reversal motion. The spindle in Ci.Ni.Mo. steel, is forged, thermical treated and ground; it turns on Gamet or Timken roller bearings, of a very high precision type, lubricated by oil pressure. The speeds are selected directly on a large push button placed in front of worker.
SADDLE
The saddle is of cast iron, widely sized, it slides on large prismatic guides coupled to themselves with the highest accuracy. The clearance between saddle and guides is adjustable with adequate tape gibs. The top slider can be freely rotated 360°. All sliding guides are induction hardened and ground.
APRON
The apron is totally sealed and with oil bath lubrication. It contains the kinematic attachments required for both feeds, the pump for the guides lubrication, the device avoiding the contemporary coupling of feeds and lead screw, the large vernier to read longitudinal feed values so as to check shouldered cuttings.
NORTHON BOX
The Northon box is hermetically sealed and with oil bath lubrication. Provided with protection against overload, the box permits the selection of hundreds of threads by these systems: Metric, Whitworth, Module Pitch and Diametral Pitch, as well as the value of 19 TPI all without any substitution of gears.
ISTANTANEOUS CHANGE OF SPINDLE SPEEDS
You get it by acting with the selector of the plugboard placed on the saddle easily reachable by the worker.
Technical data
Select the model
TP 250
| | | | |
| --- | --- | --- | --- |
| | Center height | mm | 270 |
| | Turning diameter | mm | 540 |
| | Swing in gap | mm | 740 |
| | Swing over transversal saddle | mm | 350 |
| | Spindle speeds min/max N. 24 | giri/min | 28/1600 |
| | Spindle bore diameter | mm | 72-102 |
| | Spindle nose Cam Lock | D1 inch | 6"- 8" |
| | Tailstock spindle travel | mm | 220 |
| | Tailstock spindle diameter/Morse taper | mm | 80/5 |
| | Main motor power | kW | 7,5 |
| | Spread between centres | m | 1,5-2-3 |
TP 300
| | | | |
| --- | --- | --- | --- |
| | Center height | mm | 300 |
| | Turning diameter | mm | 600 |
| | Swing in gap | mm | 800 |
| | Swing over transversal saddle | mm | 410 |
| | Spindle speeds min/max N. 24 | giri/min | 28/1600 |
| | Spindle bore diameter | mm | 102 |
| | Spindle nose Cam Lock | D1 inch | 8" |
| | Tailstock spindle travel | mm | 220 |
| | Tailstock spindle diameter/Morse taper | mm | 80/5 |
| | Main motor power | kW | 11 |
| | Spread between centres | m | 1,5-2-3 |
TP 400
| | | | |
| --- | --- | --- | --- |
| | Center height | mm | 400 |
| | Turning diameter | mm | 800 |
| | Swing in gap | mm | 1000 |
| | Swing over transversal saddle | mm | 570 |
| | Spindle speeds min/max N. 24 | giri/min | 14/1000 |
| | Spindle bore diameter | mm | 125 |
| | Spindle nose Cam Lock | D1 inch | 11" |
| | Tailstock spindle travel | mm | 270 |
| | Tailstock spindle diameter/Morse taper | mm | 125/6 |
| | Main motor power | kW | 15 |
| | Spread between centres | m | 1,5-2-3-4-5 |
TP 500
| | | | |
| --- | --- | --- | --- |
| | Center height | mm | 500 |
| | Turning diameter | mm | 1000 |
| | Swing in gap | mm | 1200 |
| | Swing over transversal saddle | mm | 770 |
| | Spindle speeds min/max N. 24 | giri/min | 14/1000 |
| | Spindle bore diameter | mm | 125 |
| | Spindle nose Cam Lock | D1 inch | 11" |
| | Tailstock spindle travel | mm | 270 |
| | Tailstock spindle diameter/Morse taper | mm | 125/6 |
| | Main motor power | kW | 15 |
| | Spread between centres | m | 1,5-2-3-4-5 |
Lathes lines OMG