Heavy duty multitasking lathes
MT4-H
The MT4-H series lathes are 4-GUIDE HEAVY DUTY LATHES that allow the steady rests to run on independent guides in relation to those of the slide. These products are conceived from the experience of PBR Perico Baroni Raimondi in the heavy duty turning world, combined with the continuous investments by OMG Zanoletti in the research and development focused on designing technologically advanced products. The design engineers paid great attention to the generous sizing of the structural elements of the machine as well as ergonomics and practicality of use. The versatility of the MT4-H lathe allows to mount accessories for boring, milling and grinding operations with the further option of adding additional slides with milling units and Y-axis.

The bench is equipped with large hardened and ground guides and is wide enough to support large diameter steady rest without creating interference with the slide. The head, with external range change for ease of maintenance, houses a series of gears suitably sized to take full advantage of the motor torque.

The NiCrMo forged steel spindle, cemented, hardened and ground, is supported by heavy duty bearings. The live center also has a spindle line supported by bearings, a load cell to guarantee the necessary pressure plus an automatic compensation system for the thermal elongation of the piece.
DOWNLOAD CATALOG
FEATURES
Main features
STEADY RESTS ON INDEPENDENT GUIDES
MONOLITHIC BENCH
ADDITIONAL FRONT SUPPORT GUIDE FOR THE SLIDE
SPINDLE LINE WITH LARGE HEAVY DUTY BEARINGS
EXTERNAL RANGE CHANGE
CEMENTED, HARDENED AND GROUND GEARS ALSO ON THE SIDES TO ENSURE A PERFECT BALANCE
LARGE SPINDLE TORQUE
REQUEST QUOTE
HEADSTOCK
The headstock has an external gear box and an internal series of gears properly sized to exploit all the available torque. The external gear box allows faster changes of the speed ranges, less noise, less overheating and easy maintenance.
SPINDLE
The spindle in NiCrMo forged steel, cemented, tempered and ground is supported by bearings that provide very heavy loads.
BED
Great emphasis was placed in the design of structural elements of the machine. The bed is a monolithic structure in Meehanite cast-iron made in Italy. It has 3 upper guides plus a forth guide on the front side to support the saddle during the machining of the bigger diameters. All the guides are hardened and ground and positioned in order to support large steady rests without interference with the saddle's movement.
TAILSTOCK
The tailstock has a spindle supported by roller and thrust bearings. A system with load cell controls the axial thrust pressure and the thermal dilatation recovery. The displacement of the tailstock base and quill is electrically managed.
Z axis movement
The Z axis movement is granted by double pinions and a rack with slant, tempered and ground teeth. A couple of motors and high precision reduction gears work with the "Master and Slave" system controlled by CN.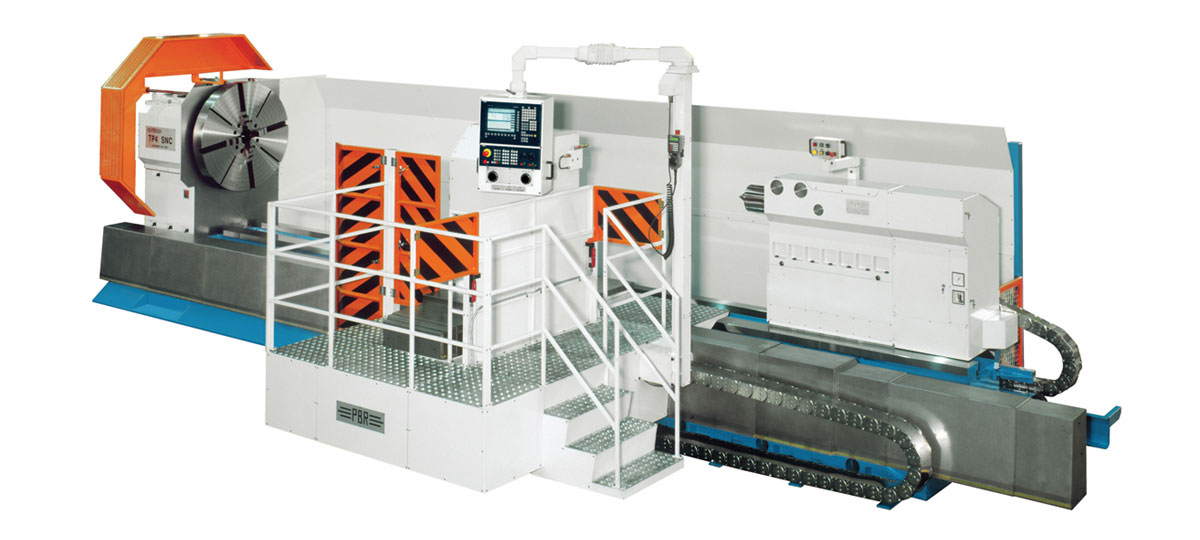 Technical data
Select the model
MT4-H 900
| | | | |
| --- | --- | --- | --- |
| | Center height | mm | 430 - 480 - 530 - 580 |
| | Turning diameter over the bed | mm | 860 - 960 - 1060 - 1160 |
| | Turning diameter over saddle | mm | 600 - 700 - 800 - 900 |
| | Admissible weight between centers | DaN | 6000 - 10000 |
| | Distance between centers | mm | 30000 |
| | Spindle motor power | kW | 28 - 39 |
| | Spindle nose | ASA | 11 - 15 |
MT4-H 1200
| | | | |
| --- | --- | --- | --- |
| | Center height | mm | 600 - 650 - 700 - 750 |
| | Turning diameter over the bed | mm | 1200 - 1300 - 1400 - 1500 |
| | Turning diameter over saddle | mm | 920 - 1020 - 1120 - 1220 |
| | Admissible weight between centers | DaN | 10000 - 15000 |
| | Distance between centers | mm | 30000 |
| | Spindle motor power | kW | 39 - 51 |
| | Spindle nose | ASA | 15 |
MT4-H 1500
| | | | |
| --- | --- | --- | --- |
| | Center height | mm | 850 - 900 - 950 |
| | Turning diameter over the bed | mm | 1700 - 1800 - 1900 |
| | Turning diameter over saddle | mm | 1300 - 1400 - 1500 |
| | Admissible weight between centers | DaN | 20000 - 30000 - 50000 |
| | Distance between centers | mm | 30000 |
| | Spindle motor power | kW | 51 - 71 |
| | Spindle nose | ASA | 15 - 20 |
Lathes lines OMG