CNC teach-in lathes
CNA
The OMG Zanoletti lathe CNC with self teach in of the CNA series, comes out from a successful compromise which joints the handiness of a standard lathe to the potentiality of a CNC lathe. For this reason, it is the ideal machine for the customer who needs to combine the production demand, either of a single piece and of little and middles series, as well as the employment of workers not accustomed to use the CNC language of programming. This type of lathe can be used in 3 different ways:

• traditional, by using the wheels for axis Z and axis X
• teach in, starting from the drawing of the piece, following a driven program on video which uses prearranged cycles (roughing, finishing and taper turning, threading etc.) you make the working programme.
• CNC, using ISO programming like a proper CNC lathe.
DOWNLOAD CATALOG
FEATURES
CN with fixed hand wheels + remote hand wheel
Double external prismatic guides protected for slide running on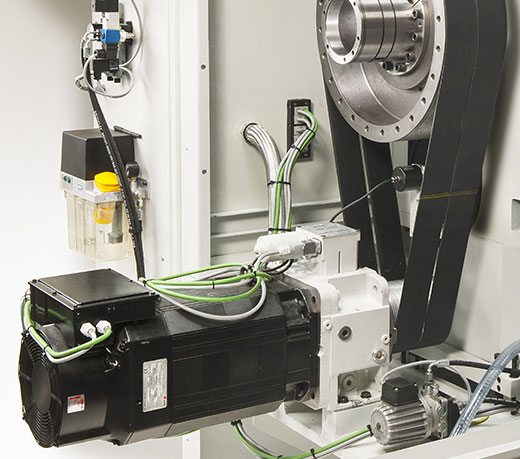 External range change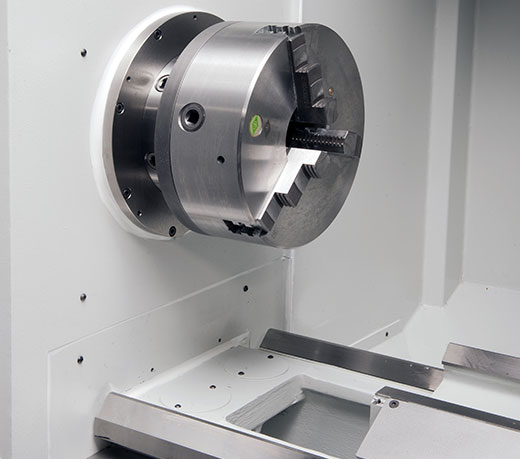 Natural groove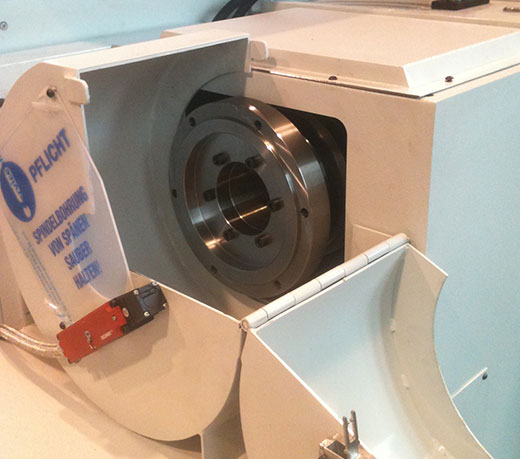 Rear chuck option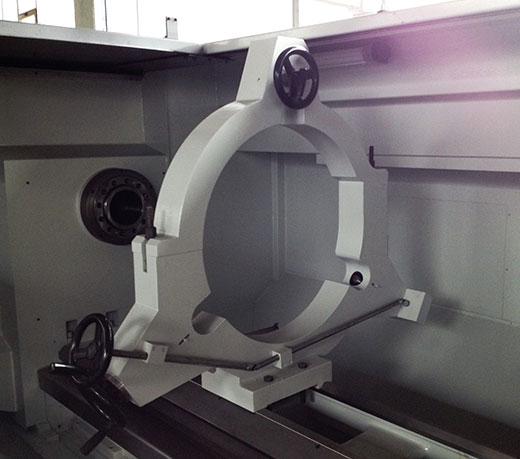 Special steady rest with return motion
Main features
FACILITATED PROGRAMMING USING A DEFAULT MACRO FOR TURNING, THREADING, GROOVE, ETC.
ISO PROGRAMMING
NATURAL INLET UNDER THE HEAD FOR THE TURNING OF LARGE DIAMETER FLANGES
DOUBLE PRISMATIC GUIDES FOR SLIDE RUNNING ON
GUIDES PROTECTED FROM FALLING CHIPS
SPINDLE LINE WITH BEARINGS FOR SUPERIOR QUALITY FINISHING
2 SPEED RANGES WITH EXTERNAL RANGE CHANGE GUARANTEES ABSENCE OF VIBRATIONS, MINIMUM OVERHEATING, MINIMUM NOISE AND EASY MAINTENANCE
REQUEST QUOTE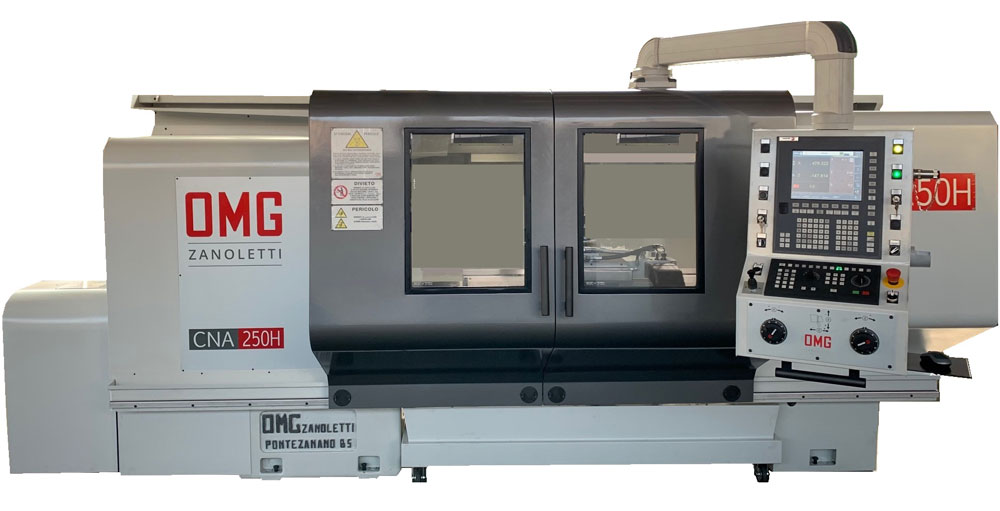 BASE
Cast iron legs. The bench, also in cast iron, has 4 induction hardened and ground guides; the two protected external ones are used for slide running on, the two internal ones for live center / steady rest. The double prismatic guide on the bench allows the longitudinal slide to move perfect aligned, guaranteeing high precision machining performances. The benches have a natural recess of 100 mm in depth which allows for increased turning and easy tooling of the machine.
HEADSTOCK
Body made of cast iron, with superior rigidity and vibration damping characteristics. Spindle in special steel, heat treated, ground and mounted on precision angular-contact ball bearings. Spindle AC motor brushless and air-cooled.
SLIDES
The longitudinal (Z axis) and transversal (X axis) slides are made of cast iron, with induction hardened and ground guides. The counter-guides are coated with anti-friction material. The slides are powered by AC servo motors brushless coupled with ball lead screws, ground and with preloaded nut.
LIVE CENTER
Cast iron body. Quill feed, translation and locking, in position, manual
STEADY REST
Manual fixed steady rest, both for controlling the quills and for the translation and locking in position along the bench.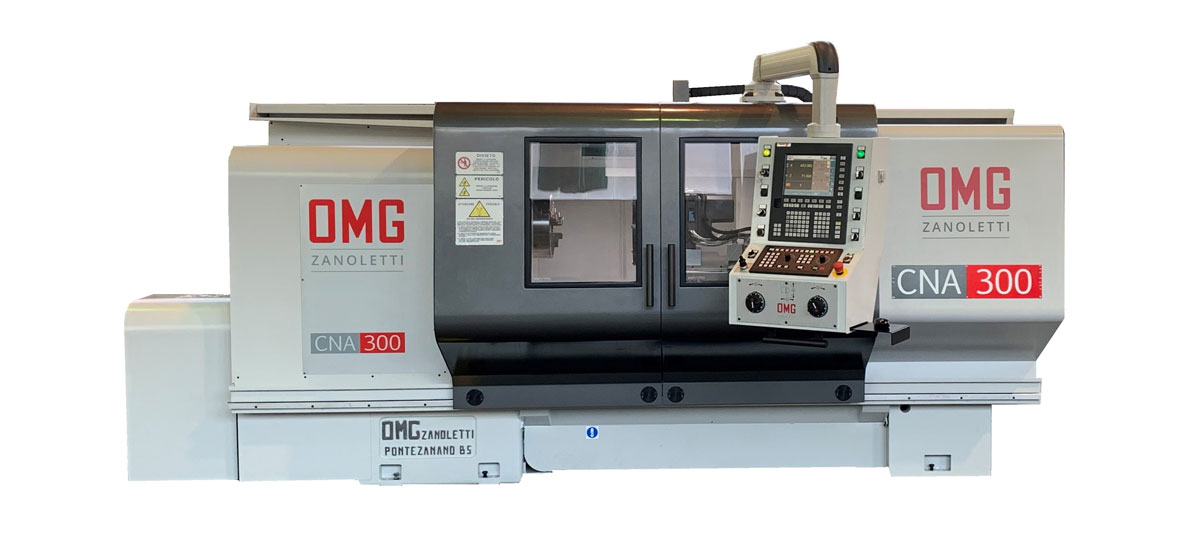 Technical data
Select the model
CNA 250
| | | | |
| --- | --- | --- | --- |
| | Center height | mm | 270 |
| | Turning diameter | mm | 540 |
| | Swing in gap | mm | 740 |
| | Swing over transversal saddle | mm | 310 |
| | High speed range | UpM | 0÷600÷2000 |
| | Low speed range | UpM | 0÷150÷500 |
| | Spindle bore diameter | mm | 72-102 |
| | Spindle nose Cam Lock / ASA D1 | inch | 6"- 8" |
| | MORSE taper shank live center | cm | 5 |
| | Rapid longitudinal (Z) / cross (X) slide | m/min | 10 |
| | Main motor power | kW | 11 |
| | Spread between centres | m | 1,5-2-3 |
CNA 300
| | | | |
| --- | --- | --- | --- |
| | Center height | mm | 300 |
| | Turning diameter | mm | 600 |
| | Swing in gap | mm | 800 |
| | Swing over transversal saddle | mm | 370 |
| | High speed range | UpM | 0÷400÷1800 |
| | Low speed range | UpM | 0÷100÷450 |
| | Spindle bore diameter | mm | 102-132-152 |
| | Spindle nose Cam Lock / ASA D1 | inch | 8"- 11" |
| | MORSE taper shank live center | cm | 5 |
| | Rapid longitudinal (Z) / cross (X) slide | m/min | 10 |
| | Main motor power | kW | 18,5 |
| | Spread between centres | m | 1,5-2-3 |
CNA 350
| | | | |
| --- | --- | --- | --- |
| | Center height | mm | 350 |
| | Turning diameter | mm | 600 |
| | Swing in gap | mm | 900 |
| | Swing over transversal saddle | mm | 470 |
| | High speed range | UpM | 0÷400÷1800 |
| | Low speed range | UpM | 0÷100÷450 |
| | Spindle bore diameter | mm | 102-132 |
| | Spindle nose Cam Lock / ASA D1 | inch | 8"- 11" |
| | MORSE taper shank live center | cm | 5 |
| | Rapid longitudinal (Z) / cross (X) slide | m/min | 10 |
| | Main motor power | kW | 18,5 |
| | Spread between centres | m | 1,5-2-3 |
CNA 400
| | | | |
| --- | --- | --- | --- |
| | Center height | mm | 400 |
| | Turning diameter | mm | 800 |
| | Swing in gap | mm | 990 |
| | Swing over transversal saddle | mm | 510 |
| | High speed range | UpM | 0÷312÷1400 |
| | Low speed range | UpM | 0÷78÷354 |
| | Spindle bore diameter | mm | 132-152-200 |
| | Spindle nose Cam Lock / ASA D1 | inch | 8" - 11" - 15" |
| | MORSE taper shank live center | cm | 6 |
| | Rapid longitudinal (Z) / cross (X) slide | m/min | 10 |
| | Main motor power | kW | 22 - 30 |
| | Spread between centres | m | 1,5-2-3-4-5 |
CNA 500
| | | | |
| --- | --- | --- | --- |
| | Center height | mm | 500 |
| | Turning diameter | mm | 1000 |
| | Swing in gap | mm | 1190 |
| | Swing over transversal saddle | mm | 710 |
| | High speed range | UpM | 0÷312÷1400 |
| | Low speed range | UpM | 0÷78÷354 |
| | Spindle bore diameter | mm | 132-152-185 |
| | Spindle nose Cam Lock / ASA D1 | inch | 8" - 11" - 15" |
| | MORSE taper shank live center | cm | 6 |
| | Rapid longitudinal (Z) / cross (X) slide | m/min | 10 |
| | Main motor power | kW | 22 - 30 |
| | Spread between centres | m | 1,5-2-3-4-5 |
Lathes lines OMG